Meet Pastor Dave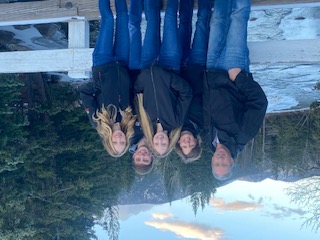 Our pastor, Dave Thompson, has been serving our congregation since 2010. His sermons are Christ-centered and Bible-based. He has a great appreciation for the grace of God that is offered freely through Jesus Christ. Dave enjoys helping people grow in their knowledge of the Bible, Jesus Christ, and the Christian faith.
Prior to coming to our congregation, Dave served as pastor of the United Presbyterian Church in Jamestown, North Dakota, from 1996-2010. While in Jamestown, Dave also taught part-time at the University of Jamestown in their Leadership Department.
Dave received his Masters of Divinity degree from the University of Dubuque Theological Seminary in Dubuque, Iowa, in 1996. He received his Bachelor's degree in Business Administration from Montana State University in Bozeman in 1991.
Before becoming a pastor, Dave worked as a commercial fisherman in southeast Alaska and worked as a tour guide on the Mendenhall Glacier in Juneau, Alaska.
Dave and his wife Vicki have three children: Sara (24) John (21) and Erin (15). Dave enjoys spending time with his family, playing sports, riding the unicycle, water skiing and wake boarding, running, mowing lawns, and the outdoors. He serves as the coordinator for the police chaplain program with the Billings Police Department and also serves on the board with Habitat for Humanity. He also has done stand up comedy and stock car racing. He enjoys having fun and living life to the fullest!
Follow Us On Facebook @fpcbillings
Watch Us On YouTube
Watch our videos on our YouTube Channel.
CLICK HERE