Whatever age you are and wherever you are in your faith development, we have a place for you. Our ministries are centered around helping people grow in their faith and developing a greater trust in Jesus Christ as Lord and Savior. From Christ centered-worship services, to Bible-based learning opportunities, it is our goal to train and equip followers of Jesus Christ. Programs are offered for families and individuals. Come and see how God is working in our midst.
Some of the programs we offer include:
Christian Education for adults:
"Holy Land Highlights" will begin on Sunday, September 16 at 9:15 AM in the Fireside Room and will share highlights from our church's recent trip to the Holy Land. Join Pastor Dave and others as we share of our experiences and bring the Bible to life. This is a great class to better acquaint you with Israel or to relive the experience that many from the church enjoyed in June. This class will continue on Sundays through October 14.

Church and Society Class is offered Sunday morning from 9:15-10:15 AM in our Church and Society Room from September through May. This class welcomes a different guest every week who will talk about how the Christian faith impacts their life's work. Check the church's newsletter, bulletin, or Billings Gazette for a listing of the upcoming guest speakers.
Men's Bible Study
meets on the 2nd and 4th Mondays of each month from 12noon - 1:00 PM for study and fellowship. This group meets in the fireside room at the church. All men are invited and encouraged to attend.
Women's Bible Study gathers on Tuesday morning from 9:30-11:00 AM in the fireside room for Bible study and fellowship. All women are invited to attend. This group is currently studying Jesus' Sermon on the Mount from Matthew 5-7.
Bible Study Fellowship (BSF), an internationally recognized Bible study for women, meets at our church on Thursday morning from 9:00-11:00 AM for worship, Bible study, and prayer. About 180 women are enrolled in BSF at our church this year. This group meets weekly from September through May.
Bible Lunch Time (BLT) meets on Wednesdays from 12 noon to 1:00 PM in Library North, just past Pastor Dave's office. Led by the Rev. Doug Johnson, chaplain at Billings Clinic, BLT is open to all in our community who desire to gather over the lunch hour for study and discussion. The group is currently studying a book related to the Christian faith.
Presbyterian Women's (PW) Groups are very active in our congregation with five groups currently meeting. The Deborah Circle meets every Wednesday evening from 6 - 7 PM in the Church and Society Room for study and fellowship. This group consists of a number of working women.
The other four circles meet once a month, on the third Wednesday of each month. All women are invited and encouraged to be a part of our church's PW group, where friendships are developed and faith increased. For specific meeting times for the circle meetings, please contact the church office.
Children's and Youth Ministry Programs: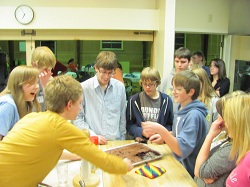 Sunday school
Classes for all ages are offered during our Sunday school hour from 9:15-10:15 am. Come and grow in your faith with us. Kids classes include preschool-kindergarten; 1-3 grades; 4-6 grades; and middle school and senior high during the school year, from September through May.
Youth Group
All middle and high school youth are invited to the church every Wednesday evening for supper, games, music, and Bible learning. There is no charge to attend and friends are always welcome to join us. We desire to help kids grow in their faith and to apply Bible principles to their lives
Confirmation, taught by Pastor Dave, begins in October and runs through April for youth who want to learn more about the Christian faith. These youth work throughout the school year on various projects, with Confirmation Sunday being celebrated in April.