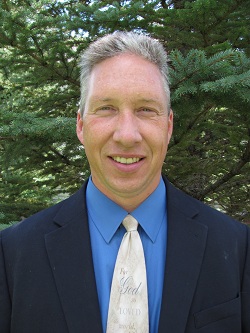 I have included these blogs to help you get to know me and my understanding of faith better. I look forward to having you share with me what you believe about the Christian faith. Enjoy!
by Pastor Dave | March 1, 2012
I spent the summer months of my college years working as a commercial fisherman in Alaska.

For three months of the year, it was our goal to catch as many salmon as possible, using a large purse seine net.

Our best season of fishing was in 1989 when our crew of seven brought in about 350,000 salmon, totaling close to 20 million pounds.

It was an exciting season to see so many fish caught!

I still love to fish, even if on a smaller scale.
I hope that you will join our fishing crew as we enter our 2nd annual fishing derby to raise funds for the One Great Hour of Sharing (OGHS) offering. You can help by picking up one of our OGHS fish boxes (available in the church's gallery) and begin to fill it with coins. On Easter Sunday, we will be collecting all of the boxes and have our weigh-in during worship. If you will be out of town on Easter Sunday, we invite you to return your fish box ahead of time.
Our goal is to beat last year's record of 151 pounds. This is a fun and entertaining way to help those in need. The proceeds from the OGHS offering go to support the Presbyterian Disaster Assistance program which provides much needed assistance when disasters strike. PDA was one of the first agencies into Joplin, Missouri, and Tuscaloosa, Alabama, when the tornados devastated these communities last year. Proceeds from this offering also went to many people in our region who were affected by the flooding just a year ago.
We, as a church, have a desire to help others in need. Our church does not exist for our own self-preservation. As our mission statement reminds us, we exist to "reflect the love of Jesus Christ in our church, community and world." We are making a difference in the lives of people here is Billings and beyond.
Throughout this newsletter you will hear of ways how your financial contributions are helping people. We have partnered with Stephen's Stones Ministries to make a difference in Billings by helping the less fortunate (please see Troy's letter on page 7). We will be sending a team of 28 youth and adults this summer to Belize, Central America, to build a house for the under-privileged. Our mission committee is an active group that is seeking ways to better engage with those in our community.
I greatly appreciate your generosity and concern toward other.
Let's go catch some fish!
— Pastor Dave